Every great interior begins with an idea. Initially, it may only exist in your mind, but it becomes more tangible as you put pen to paper and create a more detailed plan.
Collaborating with a designer or team of professionals is the next step to bring your vision to life. However, the success of any idea ultimately depends on its execution, which requires experience, expertise, and a commitment to delivering results within time and budget constraints.
Innovative Environments' Michael Mann, Project Manager, and Julio Zamudio, Fabrication Manager, are two people charged with shepherding an idea from concept to fruition. Here, they discuss how their experience in the industry makes the final result something special.
Experience from Vision to Plan
As the project manager, Mann's involvement with a project goes down the entire pipeline. Effective communication is essential in realizing a complex idea, and the Innovative Environments (IE) team assists clients in creating a clear and understandable framework. They can also assist in generating the vision itself.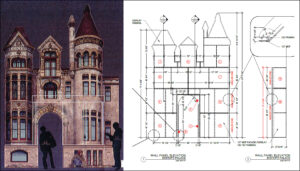 "When a client just has a rough idea of what they want to do, typically we will have a discovery meeting with them to understand what they want to achieve," explains Mann. "Then we usually spend a few weeks doing 3D renderings and creating conceptual ideas."
Once there is a concept that the client likes, IE does elevation and detail drawings that show how things specifically are made or incorporated. Even when an architect presents a set of drawings directly, IE still has a process in place to ensure the practicality and workability of the design. Mann helps the estimators with pricing, and everyone signs off on the plan and the budget.
"The final document is like our shop bible, so to speak," says Mann. "Then it is fully in the project manager's scope, and they direct the project through fabrication, installation, and invoicing."
Experience from Plan to Fabrication
With 15 years of experience at the company, fabrication manager Julio Zamudio thinks about any plan from the manufacturing perspective.
"Sometimes we get designs that look good on paper, but we need to make modifications to ensure that whatever we build will be safe," he states. "We always focus on quality, and there is the budget, too."
The materials used are a big part of any corporate interior project. With Zamudio's vast knowledge of material options, such as plywood, laminate, aluminum, and other metals, he will suggest the best ones based on their durability, cost-effectiveness, and aesthetic qualities.
"It depends on the design," he reports. "In the discovery meetings, I can look at a concept from our customer and determine what we can do in-house and the right materials to use within the budget to get the best result."
Additionally, Zamudio's team of specialists brings its expertise to the table regarding various aspects of the fabrication process, such as carpentry, welding, painting, and custom fabrication. Review drawings that Zamudio has done with the detailer make it possible for him to prevent any delays in the fabrication process.
"If there is something custom, I want to make sure that either the material is in-house or if it needs to be ordered and has some lead time, I want to do that right away, so our fabricators don't have to stop," states Zamudio.
Experience When Troubleshooting  
IE's knowledge base enables the team to identify potential problems and find solutions quickly, such as changing materials or design elements to ensure the project's success.
Zamudio describes redesigning a particular sign to be 300 pounds lighter so it would stand safely on its support. The original sign, from a third-party vendor, consisted of an aluminum base with acrylic lettering. Zamudio and his team suggested using quarter-inch plywood and foam letters, reducing the weight dramatically. The result was a top-quality, beautiful sign that thrilled the client.

"With many years of experience under your belt, challenges such as this one are so much easier to come up with a solution," claims Zamudio.
Because Zamudio also has installation experience, he always thinks about the manufacturing process with the installation team in mind.
"Our goal and my mission are not only to fabricate quality elements but also to make it easier on the installers so they can complete the job without any delays or setbacks," he reveals.
Experience Covers All the Bases 
Every team member brings their specialty expertise to every IE project. "Our fabrication team includes signage, graphics production, millwork, metalwork, and carpentry experts that I can always count on to use their creativity and innovation to complete projects on time and keep our clients coming back for more," states Zamudio.
Not only can Mann draw on his own nine years of experience in the design and fabrication industry, but he also draws on the how-to of his colleagues.
"Styve Luu is our resident in-house architect, and he prepares most of the elevation drawings," states Mann. "He is the creative force and is always involved in the build drawings, especially once we get the concept fleshed out."
It is the wide-ranging abilities of the staff that gives IE a competitive advantage.
"Because we do a little bit of everything, we have a lot of in-house control," mentions Mann. "We do fabrication drawings, conceptual designs, graphics, wallpaper, and wall coverings."
IE also does ADA and code signage and wayfinding signage, such as parking garages, elevator banks, lobbies, office cubicles, and signage.
"We can do as much or as little as the client needs because we have a good foundation," says Mann. "I understand how to help a client conceptualize an idea and make it a reality and how to get them there with their budget."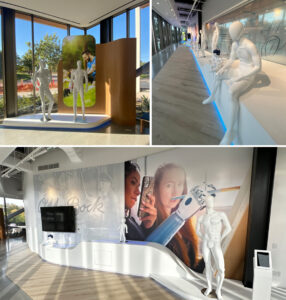 An example of IE making something happen on a large scale is the Washington, D.C., showroom for Daikin, a global Fortune 1000 HVAC manufacturing client. It is a permanent installation in a newly acquired office building designed to showcase Daikin's equipment and sustainability compared to its competitors. The showroom installation includes custom-designed and custom-fabricated displays for the HVAC systems and live-running audio/visual units featuring a 360-degree projected globe.
Another recent innovative collaboration with the German prosthetics company Ottobock in Austin, Texas, featured a backlit bubble inside a wall to showcase the company's product. (Read more about this in IE's March blog post.)
"I will claim that, obviously, the longer you do anything, the more tricks you learn," says Mann.
Mann has traveled extensively with IE's install crew and says that over the past decade, he has learned to anticipate any questions or concerns the install crews may have.
"You can design something all day long, but what is most important is knowing how things are constructed or applied to wall surfaces," Mann adds. "The end of any project is to make the installation as smooth as possible."
If you want help with your corporate interior project, visit our corporate interiors web page and contact IE for an experience you can count on.