When one thinks about creativity in the corporate interior design process, the final result is often front of mind. Unique and innovative designs that stand out from traditional layouts, customized fabrication methods that offer a big bang for your buck, and the combination of functionality with aesthetics are the things that generate well-deserved buzz.
Most people may never consider how much creativity is involved in the design process to bring a client's vision to life in a way that honors the budget but does not scrimp on quality or the wow factor.
Architect Styve Luu has been Innovative Environments' Art Department Director for four years and has an extensive project management and custom fabrication background. He grew up in France and obtained a master of architecture at the École Nationale Supérieure d'Architecture de Paris-La Villette.
He jokes that his role on the design team, which includes Renning Koester, Senior Designer, and Michael Ogrodowicz, Production Artist, is to bring everyone down to earth. But honestly, he is just fine-tuning the trajectory of a corporate interior design project for the most successful outcome.
The Vision Put to Paper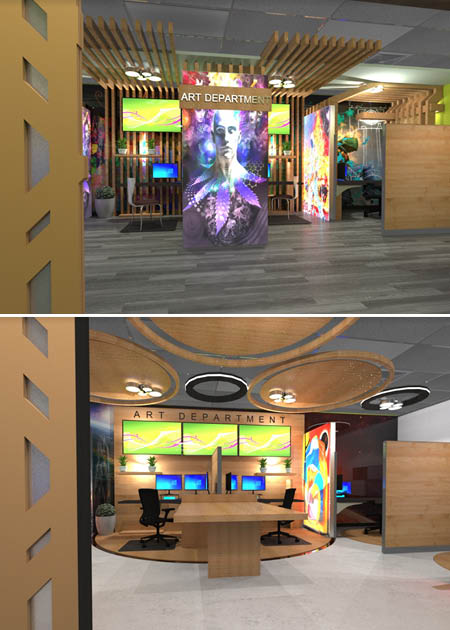 Koester's job is to collaborate on a rendering that will be the first glimpse of what will soon become a reality.
"Sometimes, I will go to the location and tour the area to get pictures and measurements," he says. "Then, I will visit with the client to find out what they want. Once I have all the information, I can start building the initial environment. I want to get it as realistic as possible."
Since branding is essential in designing corporate interiors, the rendering gives the client a clear picture of their logo on a wall or a specific finish.
"Once everything is approved, I send 3D models to Styve (Luu), and he details everything to figure out the best ways to produce it," continues Koester.
Luu wants to know the overall intention, how to make each element, and if any design elements require illumination. He also works with Ogrodowicz on sign details, which need views from various angles to see how they are put together and installed.
"I provide that information to our team here, the project managers, and the design consultants," states Ogrodowicz. "Then they share it with the client before the project moves to fabrication."
Challenges Inspire Creativity
For the team, challenges are the most exciting part of the job. Whether working with an engineer on the fabrication and rigging of a sign to hang on a skyscraper or working under a time constraint to get an interior done on time and on budget, Luu relishes the chance to use his expertise to create something new and different.
"I enjoy when a company's architect comes in with ideas, and we use our experience in helping them with their designs and walking them through our in-house fabrication process," Luu reveals. "Since they are architects and designers, they understand most of the mechanics, making for a good working relationship."
One recent project for Ottobock in Austin, Texas, involved a lot of custom fabrication that required a retrofit into the wall construction.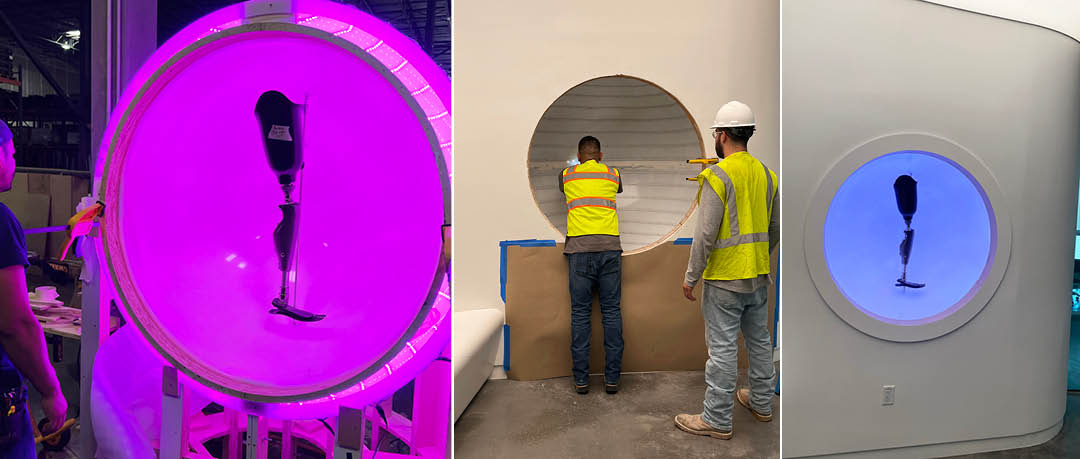 "The designer gave us much leeway in how we fabricated things, but we needed to work closely with the general contractor, too," states Luu. "For example, the project features a prosthetic limb floating in the glow of LED lights shining through a semi-sphere embedded into the wall. The weight of the entire display was a major consideration. We designed a bay that supports it but is not visible because it is behind the wall."
Another project where weight was a significant consideration is the spectacular hanging sculpture made of hand-blown glass spheres at the Keurig Dr Pepper headquarters in Plano, Texas.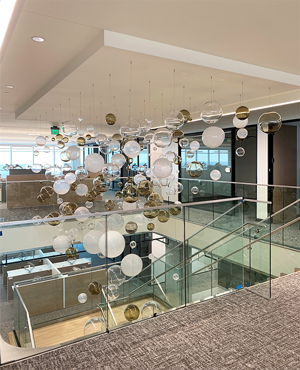 "The ceiling needed a structural canopy, so I designed a metal truss to support all those glass bubbles," explains Luu. "It was very challenging because we had to figure out how many glass bubbles we could attach to the truss and which points to connect. I will remember working on this project forever because the final glass sculpture is stunning."
Koester recalls redesigning a training floor for Logisnext, which was a little more challenging than initially thought.
"They had a big warehouse filled with different types of forklifts, and they wanted to divide it into two separate rooms so they could train separate groups of people," he remembers. "I had to figure out and design the best placement for wall dividers while keeping space for the forklifts to use for their training classes. It wasn't as easy as it sounds."
Ogrodowicz likes to apply design techniques he learned from his 18 years of experience as a magazine graphic and production artist to add impact to the client's concept and vision.
"You want the design to convey your message in an efficient and eye-catching way," he stresses. "That first impression matters."
Creativity Accrues over Time
Every job brings different challenges, which is how the team adds to its design arsenal.
"I always work to create the most realistic, appealing picture for the client," reveals Koester. "It makes it easier for everyone to grasp what they are paying for and the value they receive when their project is complete."
Luu relishes all learning opportunities and enjoys introducing clients to new technology and fabrication methods.
"Every project comes with a new concept, mindset, and challenge, and it is fun every time," says Luu. "We are proud of our ability to work through the normal and unusual problems that come with every project and to reach a mutually agreed upon solution."
Even simple projects give the team a chance to innovate.
"Creating new ways of fabricating has enhanced our library of techniques that we can pull from for future projects," states Luu.
Innovation is Everything
"Turning Heads & Inspiring Curiosity" is IE's tagline, and Luu sees IE's art department team as a creative force that makes things happen.
"We approach every project with the client in mind," shares Luu. "We want to know how they visualize their concept and the story they want to tell. We want to help them refine their vision and to offer them several options and new solutions to achieve it."
For Koester, the creative environment at IE and the people with whom he bounces around ideas help stimulate his curiosity.
"Some workplaces are too strict," mentions Koester, "but we are encouraged and allowed to be more creative at IE. We are in the business of making a client's idea come true. It is only the minimum if it is exactly how they want it. When it exceeds their expectations, it is the best."
Because of the encouragement and throughout his experience at IE, Ogrodowicz adds that he is learning to find new approaches and creative ways to achieve each client's singular vision.
Luu believes an excellent corporate interior design firm doesn't try to force a solution on a client. Instead, the goal is to match what the client intends to do first and then offer solutions that elevate that design.
"You want a company with a good understanding of composition and who is creative in problem-solving," asserts Koester. "Usually, there is something unexpected in these jobs. You have to be very adaptable when working in this industry."
Contact us today for more information on how IE can help your business elevate its corporate interior design.