You have sent a bid request and are now evaluating potential partners for your new corporate interior project. While many factors may come into play before deciding, overriding considerations are crucial. Can you count on this vendor? Do they have a track record of satisfied clients? Are they going to do what they say they're going to do?
Reliability and trust are the bases on which all the other components rest. Ending up with quality interiors and exteriors unique to your business for a fair price starts with knowing you have put your project in safe hands.
Here are some things to consider to ensure that any potential vendor checks all the right boxes.
Consideration 1: They understand the size and scope of your project.
Chris Brast, Director of Corporate Signage at Innovative Environments (IE), says that the work at IE appeals to him because every project is a little different than the one before. Still, there are some commonalities.
"There is always an owner on a project and underneath that owner is the main architect," says Brast. "They usually have an experiential graphic design firm and a general contractor who work directly for the owner."
Most of the time, Brast says IE works directly with the general contractor, although the company also coordinates with project engineers, an electrical contractor, a painting contractor, and an elevator contractor, among others. "On projects that frequently are larger in scope, there are many moving parts and pieces," states Brast.
For example, IE recently partnered with the Corgan architectural team to work on Keurig Dr Pepper Inc.'s new headquarters in Plano, Texas. The project included fabricating and installing 3,000 interior signs on five floors of office space, displays to showcase company artifacts, and wall graphics promoting sustainability.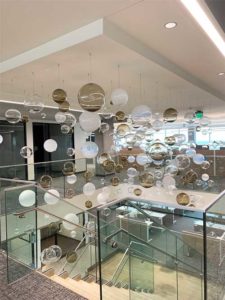 Additionally, IE worked on the fabrication and installation of a spectacular hanging sculpture between the 10th and 11th floors meant to represent the effervescence someone experiences when they open a can of Dr Pepper®.
"The architect came up with the idea to have hand-blown glass spheres in four different sizes and four different colors suspended from the ceiling a story and a half down over the stairwell," Brast describes. "We hired Wimberley Glassworks, a glass-blowing company out of San Marcos, Texas, and a special engineer to design a canopy above that stairwell that would support all the glass spheres and their cabling."
"It was such a unique feature that turned out beautifully!" exclaims Brast.
Another custom feature is a 3D element called a lenticular wall.
"If you walk from the left side, you see one set of images. But, if you walk from the right side, you see it has a completely different look," Brast explains. "We worked with the general contractor on blocking, the engineer to ensure we supported these pieces on the wall properly, and their electricians to ensure our electrical load wasn't overpowering their circuits. It was a collaboration that took a couple of months, but it is a showstopper, for sure."

"The Keurig Dr Pepper HQ project was Corgan's first exposure to Innovative Environments' talent and skillset in delivering a great product," states David Rose, Branded Environments Project Manager — Associate at Corgan. "The variety of simplified and complex elements created some creative challenges for all parties, but the end result was incredibly satisfactory. The Innovative Environments team was incredibly responsive and helpful on every stage of the process."
Partnering with a corporate environment firm that addresses the complexities of any job saves both time and money. You want to ensure that the firm understands your vision — and can execute it.
Consideration 2: The corporate environment firm won't ask you to compromise your vision.
Frequently, the bidding process will bring a range of quotes. If there is an outlier bid on the low side, it may indicate that the company needs to familiarize itself with the cost of certain materials and design processes.
"We are not the cheapest company around, but we don't want to be the cheapest," declares Brast. "What we do is not inexpensive because it is high-quality custom work, but our prices are fair and in line with others in our field."
Going with a considerably lower bid sometimes means redesigning the project to simplify it so that a contractor can build it for the quoted cost. A company may be happy with the final result, but if you want to maintain your design, ensure that your partner is also committed to it.
Consideration 3: They have a robust portfolio and recent references.
"We always put together a timely portfolio of our projects with many photos so clients can see our capabilities," Brast states.
The portfolio ideally has a range of projects to show the firm's versatility. Recent work is a must-see in this rapidly changing corporate landscape. Contacts and testimonials for each project are additional resources to determine if a firm is a good fit for you.
If a corporate environment firm has only worked on smaller efforts, there could be issues with them scaling up on larger jobs, which in turn impacts the ability to deliver on time and within budget. You also want to know if they have the resources and expertise necessary to achieve your goals.
"Many projects have multiple spokes," Brast reveals. "You want to know how a company will handle each of them."
Consideration 4: The firm is going to tell it like it is.
Brast preaches to IE's project managers the importance of starting with a client on the right foot. "We tell clients that we will not sugarcoat anything," he continues. "We will convey anything that concerns us the second we know it because we don't want to be a subcontractor for you; we want to be a part of your team."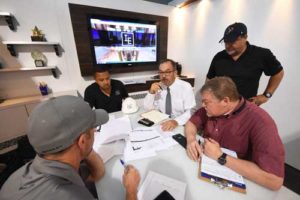 Having a relationship of mutual trust is the grease that makes everything run smoothly, even when there are inevitable bumps. You have faith in timelines and ways to collaborate when everyone is on the same team with the same goals.
"It all goes back to how you treat clients and telling them hard facts in the most productive way," Brast claims. "Clients love us because they can trust us to be honest and do what we say we will do. If I promise somebody I will have a project done within a certain timeframe, and it will be high quality, and I deliver that, it goes a long way in building trust and a strong collaborative team."
To learn more about how IE can translate your company culture into memorable interiors and exteriors, contact us online, via email, or call us at 713-939-9252.