Undoubtedly, the cost of any corporate interior project drives everything — from whom a company selects to do the work to the decisions made during the production process. But things other than the cost need to be considered — quality, value, timelines, reputation, and resources are essential factors, too.
Quality and Value
Isaac Lupovitch, Innovative Environments (IE) Director of Corporate Interiors, talks a lot to prospects and clients about value engineering. "In a nutshell, value engineering is focusing on the overall design intent while making small changes that allow the cost to come down," he explains.
A simple example of value engineering is using a larger sheet size of a particular material to make multiple signs instead of purchasing numerous small sheets of various materials that require different fabrication methods for production.
"The overall 'look and feel' remains the same," says Lupovitch, "and you get a lower cost for your signage and graphics packages by working with and using materials more efficiently with a faster fabrication method."
Jason Rodriguez, Senior Design Consultant at IE, works with clients to create the scope of work before meeting with the estimators. "The value engineering component is vital because the signage comes at the end of the construction project when the budget is also drying up," notes Rodriguez. "We do everything we can to maintain the client's vision."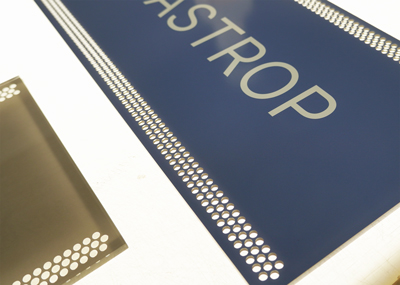 "Signage is also marketing," Rodriguez points out. "It catches people's eyes and draws them in, particularly with many of our high-end multi-family projects. People are visual, and you only have a short time to grab their attention. So even if the budget is tight, you want to find ways to stretch it while maintaining the design intent."
Lupovitch remembers one project where the client wanted metal signs throughout their office space. However, the cost was substantially more than their budget could afford. "We used a design printed on vinyl applied to clear acrylic to get the desired effect," he reveals. "The cost would have tripled if we had done them in metal."
"We can guide clients through the process without completely scrapping or removing elements from the scope of work," adds Lupovitch. "Even minor changes can make a big difference if it is a large project. If there are 1,000 signs and you reduce the cost of each sign by 5 percent, it adds up."
Timeline
Regarding manufacturing and fabrication, Rodriguez notes that the more custom the design, the longer it will take to produce. "Our standard lead time is usually around five to six weeks. When we get into highly customized signage, it could go up to eight to ten weeks," he states.
When a tenant has a definite move-in date for a space, Lupovitch says it is essential to backtrack with precision. "Sometimes a client doesn't realize all the intricate details that go into a project," he discloses. "Because we are one of the last subcontractors, we knock against that timeline."
Communicating a reasonable timeframe is part of Rodriguez's job because timelines have cost implications. For example, expediting materials and overtime labor can get expensive. "Once I get my hands on the drawings, I can gauge the complexity and the time involved," he shares. "A highly customized project will take more time to get right."
Rodriguez also gives much credit to the estimating team and the project managers who line out all the components before the fabrication and installation departments take over.
"They all take care of making a package come to life," Rodriguez proclaims. "During the process, the project manager and I will visit the shop and take photos to send to the clients, which helps to inform them of our progress on the agreed-upon timeline."
Reputation and Resources
The capabilities of a corporate design firm are essential, especially in high-profile projects. The general contractor or owner of these design projects will often interview several firms to determine if they can deliver a top-quality product and their proposed services on time.
"For IE, the general contractor interviews an account executive, a project manager, and an estimator," informs Lupovitch. "They want to know if we have covered all the bases and priced everything appropriately so it doesn't become a change order later."
Potential clients also want to know the management process of projects, how updates will flow, and what the lines of communication will be. They also want to see if a firm is comfortable with the scope and vision of a project.
"Many times, we submit the backgrounds of key personnel, including our project manager, installation manager, and estimator," Lupovitch adds. "Sometimes the lead fabrication manager is included, too. Clients want to know how long our people have been with the company, how long they have been in the industry, and any other certifications."
One of the unique things about IE is that the team does graphics, signage, and millwork all in-house. "Instead of working with three separate companies on one project, our clients work with one firm, which makes for much easier coordination," offers Lupovitch.
IE relies on some vendor partners for specialty projects, including 3D printing, LED neon manufacturing, and metal casting.
"For the large exterior signage, we usually send it out to a licensed engineer to look at the drawings," Rodriguez says. "Then they will come up with recommendations, and we will incorporate them into our drawings to relay to the install team and the municipality for permitting. Along the Gulf Coast, those big signs have to be able to withstand hurricane-force winds."
Look at Past Projects
Asking about recent and current projects and client testimonials is an effective way to learn about the capabilities of any corporate interior firm.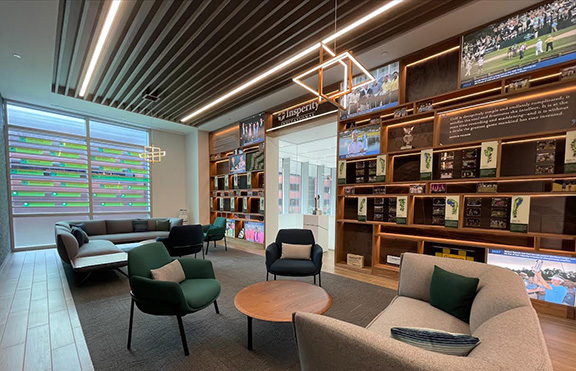 IE partnered with Kirksey Architecture on a recent corporate interior project for Insperity's corporate offices in Houston, Texas. A part of the scope of work included a display wall for the Insperity Invitational as part of the Senior PGA Tour. The client wanted the wall cabinetry to match the existing finish found in other interior sections of the building.
To accomplish their dream, the IE fabricators created veneered millwork cabinetry that "appears" to be built into the existing sheetrock to give the impression that it was designed and built during the original construction of the building many years earlier. To achieve the desired effect, the millwork fabricators used a CNC router (computer numerical control), which allows for the reduction of man-hours needed to create the custom piece.
IE also produced the opposing window display with a metal frame to match the mullions to give the impression that it, too, was designed and built during the original construction.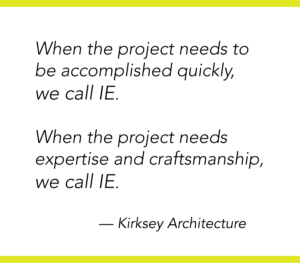 "Responsive, collaborative, and detail-oriented — these are a few of the words I would use to describe Innovative Environments and why they have become one of our highly preferred vendors to work with on projects of any size," asserts Melissa Schmitz, Vice President and Director of Brand Integration for Kirksey Architecture. "We have a great working relationship and mutual respect that has created a partnership that brings value, quality, and a safe journey for our clients."
Contact the IE experts today if you need help updating your corporate interiors.
If you found this blog post interesting, you may also enjoy reading "Top 5 Things to Consider When Choosing a Corporate Environment Firm".