"Innovative Environments (IE) is not an average sign company," explains Chris Brast, IE's Director of Corporate Signage. "IE makes signage and graphics that serve their functional purpose and add a touch of beauty and uniqueness to projects."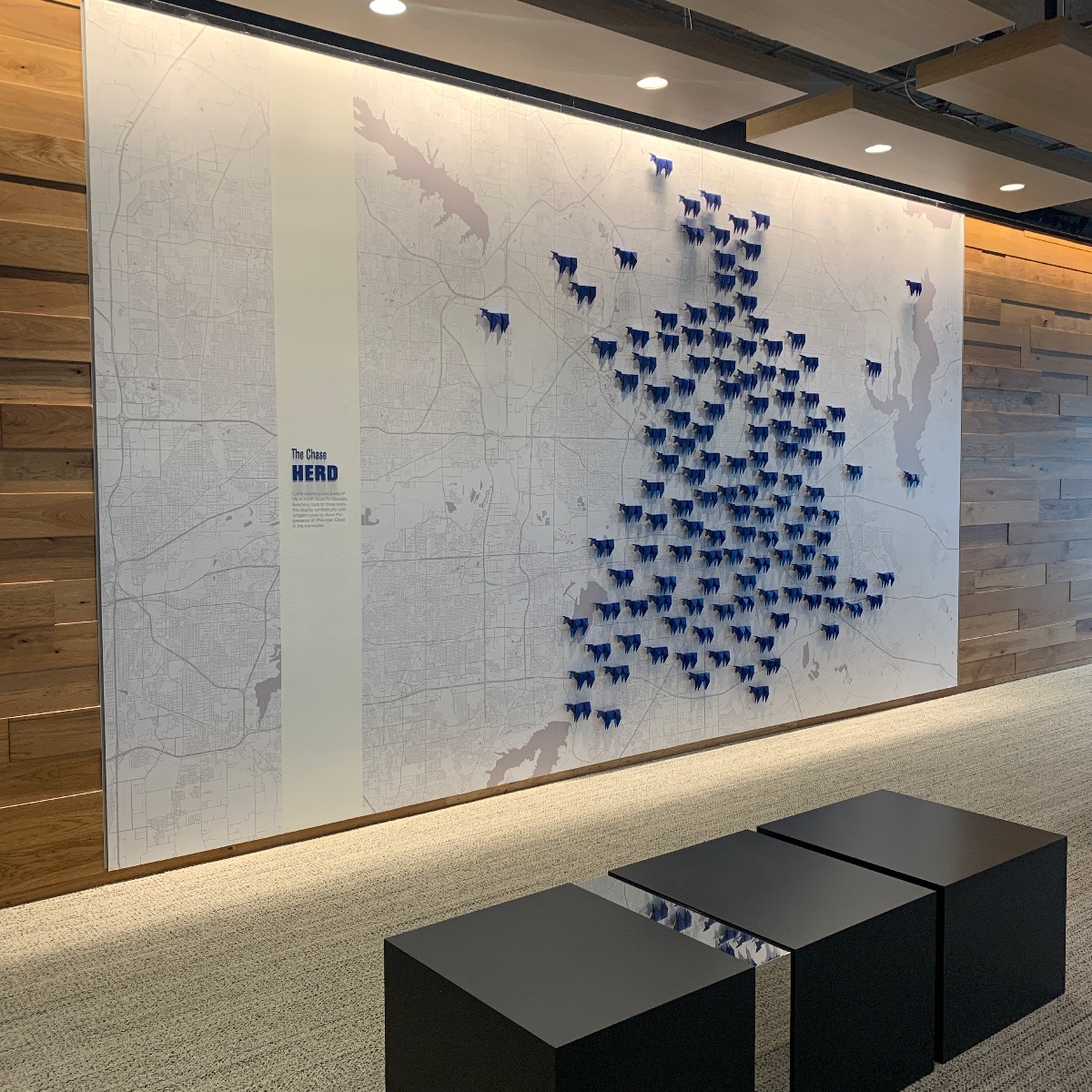 A great example of combining beauty and uniqueness is the origami-like blue bulls that adorn the main lobby wall at the JPMorgan Chase headquarters in Plano, Texas. Another example is the lenticular wall showcasing the history of Keurig Dr Pepper with different messages or images, depending on your viewing angle, at their corporate headquarters in Plano, Texas.
This article explores how Brast's team creates visually appealing and functional signage for clients.
Clients who want custom work
Brast says that IE works on specific projects where the design, layout, and finishes are distinctive to each project because their clients want something that stands out.
"It takes more expertise to do this work and a lot of experience, but they are just more rewarding projects," states Brast. "And it is what interests our whole team."
IE specializes in creating these projects by partnering with select architects and experiential graphic design firms. Together, they bring a wealth of knowledge and skills, ensuring projects benefit from a multidisciplinary approach that integrates architecture and graphic design seamlessly.
"Some of the materials might be the same, but how they are used in the design, laid out, and finished is unique to that project," reports Brast. "Working on things that pique our interest and challenge us is always fun."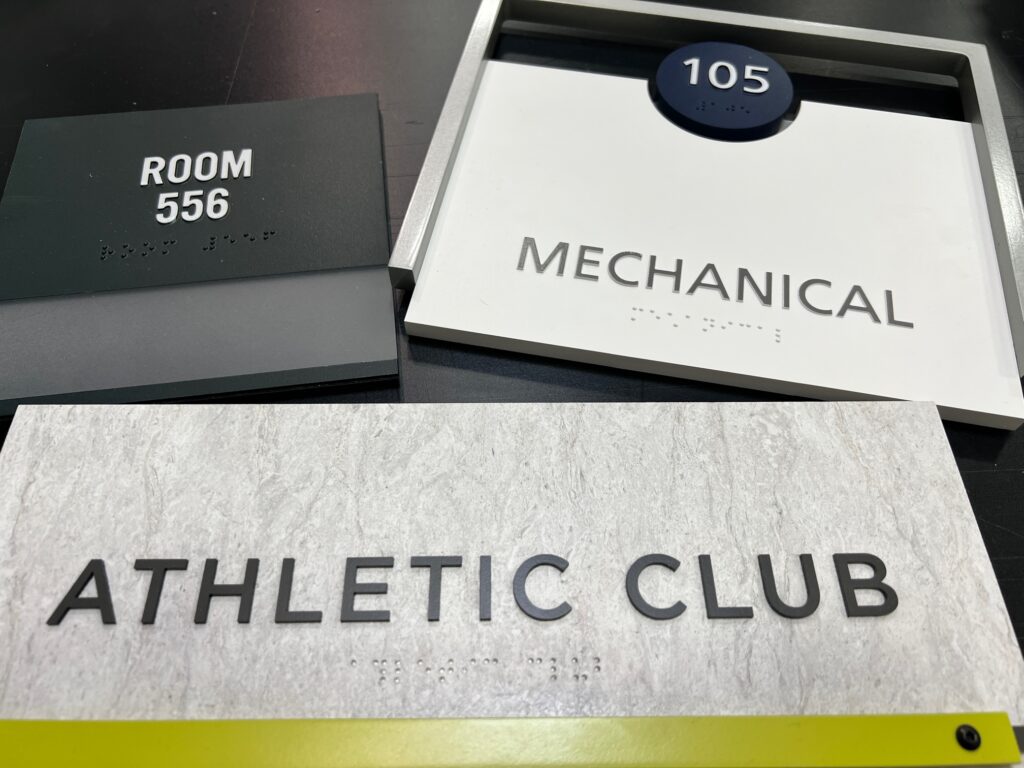 Keeping functionality in mind
One of the critical challenges in creating signage is striking graphics and scenic elements to get the right balance between what signage means to do and how it contributes to the overall look of a building.
Brast says that one key consideration is following ADA (Americans with Disabilities Act) regulations and guidelines while incorporating visually appealing design elements. These elements include maintaining the color contrast, correctly placing Braille and raised copy, and ensuring readability for the visually impaired.
"Some clients need a little bit more help with the design, and we can guide them to be able to pass inspection," notes Brast. "We explain why a sign has to be a certain way. For example, it cannot have translucent faces. We are always very upfront with our clients about the dos and don'ts for ADA, especially with a new design firm or new architect."
In addition to ADA inspections, IE works closely with fire marshals to approve signage related to emergency egress, elevator directions, and building addresses.
IE also has a lot of experience with programming, which involves assigning location numbers and planning the flow of signs throughout the building, like a site map, which enables a business to get an occupancy permit to continue interior work.
"We have worked on enough projects that we are very adept at all the complexities," states Brast. "We are still working with interesting graphics, millwork, and innovative design elements, but it is part of a larger whole."
Navigating design freedom, compliance, and branding
Regarding signage, there are some commonly used and typical materials. Acrylic is one such material.
Choosing the right finish is also essential, particularly for ADA signs. It must have a matte or satin finish since a high-gloss finish can create a glare that makes it difficult for individuals with impaired vision to read. ADA signs also need to meet specific contrasting requirements, which ensure better visibility for people with visual impairments.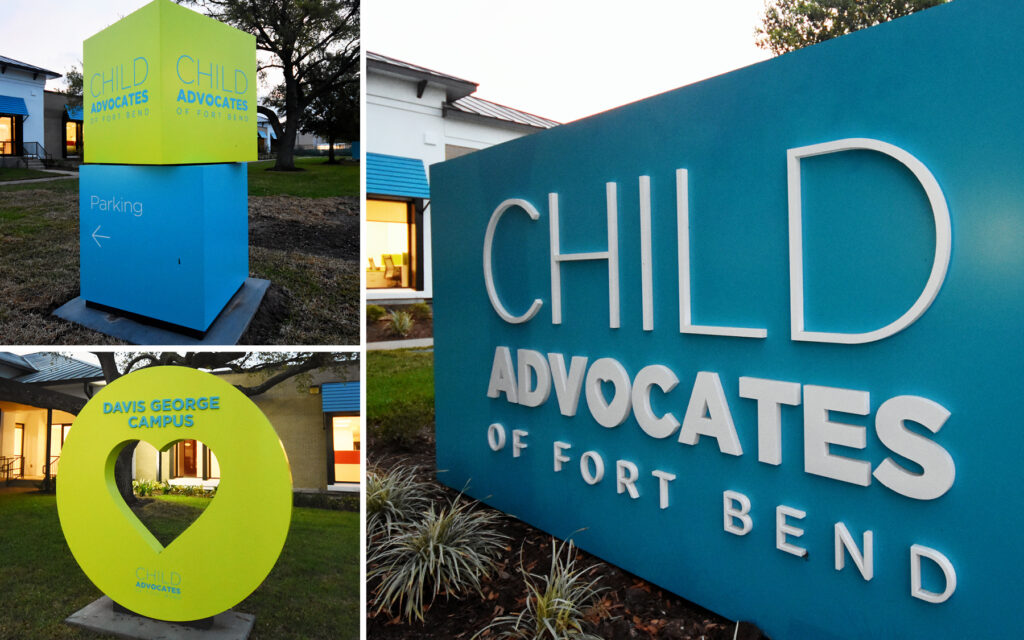 Many businesses also have branding elements they want to use in signage. When clients provide their guidelines with colors and logos, IE incorporates those into graphics and signage. Designers typically reach out to Brast's team during the early stages of a project and get agreement on design elements before the work begins in earnest.
"We help the designers before the project even goes out to bid," mentions Brast. "It builds a good rapport so they know they can count on us upfront. We also count on them to help us through the project once it is awarded to us."
Trends in Signage: Striking Design and Sustainability
Brast says that one trend gaining popularity that has been around for years is the aforementioned lenticular walls. These walls consist of triangular-shaped panels mounted on the wall at regular intervals.
Each panel features different graphics on its two visible sides, allowing viewers to see different messages depending on their viewing angle. Usually constructed with acrylic, aluminum, or wood, they offer a versatile and visually captivating signage solution.
"For the Keurig Dr Pepper project, we built them out of wood and put glass display cases on one side," explains Brast. "If you come in from the right side, you see a lot of Keurig and Dr Pepper images. And if you come in from the left side, you see illuminated glass cases displaying their artifacts and historical elements."

Another significant trend involves the shift from highly elaborate and expensive room signs to more streamlined and cost-effective options. Saving money on minor signage allows companies to allocate resources to other impactful visual elements, such as large-printed wall coverings or bespoke architectural features.
Sustainability has also become a significant consideration in signage design. With the growing awareness of the environmental impact, Brast says clients frequently request recyclable materials for their signs. IE is working on one such project for the Houston Zoo that delivers the desired visual effect while reducing the environmental footprint.
"The millwork consists of rice hulls and recycled plastic," Brast reveals. "It looks like wood. It stains just like wood. You cannot tell that it is not wood unless you know what that material is."
Honesty is the best policy
While creating corporate signage, IE strives to improve the final product through its expertise and honest communication with clients.
"We have a lot of new project managers who are learning the business," says Brast. "I stress to our team from the start to be honest with our clients about what is and isn't possible. They learn to trust us and know we will lead them in the right direction."
This trust starts with the bidding process by providing clients with a clear understanding of all the steps to follow. By building trust and collaboration with clients and other professionals in the industry, IE has established a track record of success. The result is both practical and beautiful.
For more information on designing signage customized to your organization's needs, contact IE today.