At Houston Business Journal's "Most Admired CEOs 2022" awards luncheon, Innovative Environment's CEO Craig Koopersmith was amongst the honorees. An impressive group of 45 CEOs was recognized for resilience through the COVID-19 pandemic, business acumen and community leadership. We salute Craig for this well-deserved distinction. In this blog post, we share some of his responses to HBJ's inquiries that have not previously been published. Continue reading for insight on what makes Craig tick and a healthy dose of inspiration.
What has surprised you the most since becoming a top executive?
"Culture eats strategy for breakfast," said Peter Drucker. Sure, you can't be successful without a good strategy, but most companies are somewhat successful without a great culture. I didn't understand how better our culture could be because I had never experienced what GREAT culture felt like. Holy Good to Great, now that we are living it, my experience as CEO is entirely different. We have no drama, we work as a team, 100% of our people live our core values most of the time, and it's fun. The most rewarding part of my job is watching our leaders and future leaders grow personally and professionally.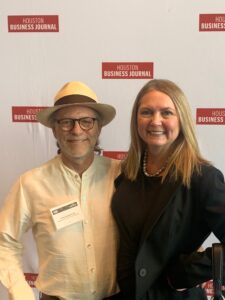 What is your leadership philosophy?
The goal of the company is to enrich the lives of the stakeholders:
Employees are #1.
Customers are our lifeblood and must be emotionally satisfied 100% of the time.
Vendors are our partners – we cannot thrive without them.
Shareholders have invested and deserve an appropriate rate of return.
Society as a whole deserves to be improved by our efforts.
But wait, there's more. The organization's culture is defined by the worst behavior the CEO will tolerate. This concept is a recent discovery for me and has changed everything. It applies to families, sports teams, and more. Set the bar REALLY high, expect excellence, and be firm in your convictions. It is not new or rare, and implementing it is daunting! Sam Silverstein's book, Non-Negotiable: The Story of Happy State Bank & The Power of Accountability, drove this concept home for me. Thanks, Sam!
What advice would you give to emerging leaders?
Suppose you have a market for your product at a price that makes economic sense. In that case, you can be successful if you learn and apply consistent management principles.
One of the most important principles is to set the bar very high. We established a clear goal when we started Innovative Environments four years ago. Be a world-class company building world-class exhibits, events, and environments for world-class clients. We are getting closer to "world-class" every day and have a clear plan to get there. Two out of three are in the bag!
How do you relax/unwind?
When I was 27 years old, I was an engineer for Shell, stressing out about a massive project while also training for a 10K run. My heart rate was irregular and racing, and the doctors gave me powerful drugs to control it. But, it turns out that it was all stress-related and triggered by too much caffeine. I learned a lot of lessons from the excellent book, The Joy of Stress (maybe it should be on my Top 20 Books to Read List). I learned that one of the best ways to deal with stress is to replace it with alternative pressures. When I play tennis, I cannot think about work. When I'm captain of our sailboat, I am consumed by listening, feeling, watching, and smelling. Like a computer with many sensors, I'm always alert to the vessel's condition, even when I'm sleeping. These alternative stresses do not include lying on the beach at a fancy resort, which is too dull for me! After recently completing a 2,000-mile journey from Mexico to the Galapagos Islands and then to Panama, I was totally exhausted. However, I was elated to have successfully checked off not only one but two adventures from my bucket list. And as a result, I am notably calmer.
What 10 books from your Top 20 list would you recommend to upcoming business leaders?

The E-Myth: Why Most Small Businesses Don't Work and What to Do About It by Michael Gerber. This book is a must-read for all small business owners. Gerber shares his invaluable expertise and insight with anyone starting their own business.
Non-Negotiable: The Story of Happy State Bank & The Power of Accountability by Sam Silverstein. Based on the real-life story of J. Pat Hickman, this book covers how he grew his business to billions of dollars by applying his beliefs and not negotiating what he holds dear.
Quality is Free: The Art of Making Quality Certain by Philip B. Crosby, a disciple of W. Edwards Deming (often referred to as the father of quality control). Crosby believes it is cheaper to do things right the first time because it is always better than quality control at the end.
The Secret by Rhonda Byrne. Based on an earlier documentary film, this book examines the belief in laws of attraction, which claims that thoughts can directly change a person's life.
Outliers: The Story of Success by Malcolm Gladwell. In this book, Gladwell examines the factors that contribute to high levels of success and why and how some people rise when others do not.
It Starts with Food by Dallas and Melissa Hartwig. This book introduces the Whole30 health diet and how you could become healthier in just 30 days.
From Worst to First by Gordon Bethune. This business leader explains how he turned Continental Airlines around by focusing on the three key measurements to create a working environment that adds value and motivates employees to achieve success.
Catalytic Coaching: The End of the Performance Review by Gary Markle. With 20+ years of hands-on experience with performance management systems, Markle explains what's wrong with performance reviews and how they are typically conducted. I wish I had read this earlier in my career.
Crossing the Chasm by Geoffrey Moore. This publication explains the concept of the "Chasm," the gap between "early adopters" and mainstream customers.
The Four Agreements: A Practical Guide to Personal Freedom by Don Miguel Ruiz. This reveals the source of self-limiting beliefs that rob us of joy and create needless suffering.
To see all of HBJ's "Most Admired CEOs" for 2022, read HBJ's online article.