In the End, Quality is Key
First, what exactly is quality? You know it when you see it. You also know it when you don't. In the corporate interiors and corporate signage realm, quality is the gold standard you have in mind when conceiving projects and where materials, design, and construction culminate in a project that meets — and exceeds — expectations. At Innovative Environments (IE), there are many ways that the team ensures excellence for clients. Drew Torres, Signage Fabrication Manager, Sommer Williams, Print Shop Supervisor, and millwork craftsman James Bronikowski talk about the things they do daily to ensure quality corporate interiors and signage are the standard practice at IE.
Experience matters
Bronikowski, a millwork craftsman at IE for 19 years, started learning the craft in his 7th-grade woodshop and never stopped, expanding his skills into metalwork, plexiglass, and display work.
"At a young age, I discovered my passion for taking a concept and making it real using various materials," Bronikowski reminisces. "I truly enjoy fabricating and tackling each job's challenges."
Bronikowski cuts and assembles large pieces of wood according to the blueprint specifications he receives. The projects he has worked on run the gamut — from broadcast studios to museum backdrops to corporate displays to trade show exhibits.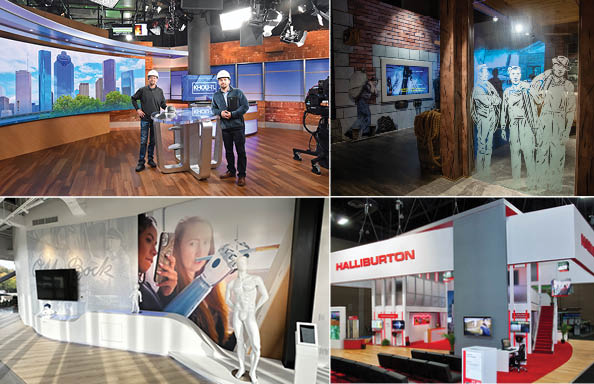 "I have worked on a lot of different projects throughout my career, and they have all been interesting," continues Bronikowski. "We are preparing for a multi-dimensional office building project in Washington, D.C., for a global Fortune 1000 company, and I am excited to start tackling that project."
For Torres, fabrication has always been a family affair.
"I grew up in a woodshop," says Torres. "My parents and grandfather have had businesses for over 30 years that specialize in high-end cabinetry millwork, so I have been exposed to and working in this business my entire life. By 15, I was running a CNC (computerized numerical control) machine; by 18, I was doing AutoCAD drawings."
Torres eventually branched out on his own and teamed up with Autumn Thompson, IE's Director of Multifamily & Creative Signage, and Tim Doyne, IE's Field Manager, at another company about 10 years ago. "They were great mentors to me," recalls Torres, "and that's when I began my specialization in signage."
Williams has always been interested in quality assurance, and since starting as a quality control specialist at IE three years ago, she and Torres have worked closely on all projects to ensure an excellent and high-quality product before it goes out the door.
"I enjoy taking ownership of the quality aspect," she states. "There is a lot of satisfaction in seeing a finished project and knowing all the steps, processes, and time it takes to get it over the finish line."
Process Drives the Project
Behind each project is a lengthy process to guarantee quality.
"We start by looking through a set of drawings with a fine-tooth comb to call out any inconsistencies or anything we see that may seem wrong," explains Torres. "Then, we produce samples for the client. After their approval, we meet to review the package again. We look at colors, materials, and anything that involves fabrication."
Ensuring that all specifications are correct in the drawing is extremely important and needs to be emphasized.
"Sometimes an outside designer gives us something that looks beautiful but doesn't have a real-world application," Torres comments. "Our production artists and designers must make that design viable enough to produce. The meetings with all our different fabricators and designers can take a couple of hours, but it's worth it because that is when we catch all our issues."
After the final sign-off on the design plans, Torres' team orders the materials and sets up the files for the machinists to proceed with production. He also helps Williams set up the book of documents (often referred to as their bible) that contains all the information needed for production.
"We also agree on the production time," continues Torres. "Sticking to timelines is important because once we agree to it, we have to do what we say we will do."
Out the Door with Oversight
Once a project has completed the fabrication and assembly processes, it still must pass the keen eyes of Sommer Williams. For Williams, quality control means physically inspecting everything produced before it leaves the shop. That could be as big as a trade show booth or a museum display to as small as individual flat, cut-out letters.
"We have a checklist that we go by and treat every item individually to give each one the attention it needs," she stresses. "There might be 20 different things to check on every sign, but we know it is correct before we install it."
That checklist helps Williams to think of the end product as the sum of various steps, each having separate controls.
"QC means reviewing everything, including making sure the drawings are laid out correctly before we begin, checking the paint finish, verbiage, sizes, and installation methods of each sign component," she describes. "A job doesn't move to the next step of the process if it is not up to our standard of excellence."
Materials Matter, Too
Clients often need to see all the material options available to create a top-quality product. "There are choices in plastics, aluminum, steel, wood, and laminates," states Torres. "We have about 100 options displayed on our large sample wall."

Every employee has a favorite. Torres and Williams say they like working with acrylics because they are incredibly versatile and allow extraordinary freedom and creativity.
One of the more challenging materials is stainless steel, particularly brushed stainless steel, and the volume of work IE does with the material has made the company a market leader. "We wear gloves to avoid touching with bare hands because fingerprints can be obvious on this type of material and tough to remove," informs Torres.
For his wood projects, Bronikowski has certain go-to materials as well. "I mostly use ¾-inch, hand-grade birch plywood," he states. "It is lighter than particle board or medium-density fiberboard and is better quality and more durable."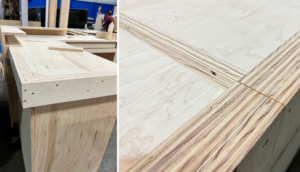 The goal with material choice is the same for everything else on a job — to make a long-lasting product that will look as good years down the road as it does on day one.
Community Facilitates Communication
Camaraderie is one intangible among IE employees who work together for a common goal. The constant flow of communication helps catch anything that might tarnish the quality.
"It is more of a family mentality here, and everybody knows we are on the same team with the same goal," declares Torres. "I feel respected here, and I enjoy coming to work. I think our clients see that and appreciate the results."
The key to quality is attention from start to finish, education, expertise, and maximum effort. The IE team goes all-in on every project because each job matters just as much as the one coming next. The client's reaction to a job done well is essential. Every team member has standards, and the bar is exceptionally high.
To engage IE on your next quality corporate interiors and signage project, contact us.